What is the
EACC

?

The EACC is the UK's leading club for cyclemotor, autocycle and moped enthusiasts. The club is run for the mutual benefit of all its members, all our committee members and officers are unpaid volunteers and we do not seek to make a profit.

We also try to be as open and inclusive as we can: there are no exclusive 'members-only' areas on this website. Our policies, minutes and accounts are available for all to see. We welcome non-members at our events. We are happy to give help and advice to non-members.

We hope that this makes us a club that people join because they want to be part of it, not one that people feel they have to join in order to obtain a particular service … so far, it seems to be working …
Latest News
David Watson
Committee member and Norfolk Section co-ordinator, David Watson, has a new e-mail address and 'phone number. See the Norfolk Section notes or the updated Information Sheet.
Calling all Lancastrians
Our newest section is in your area
AGM
The AGM has come and gone without any traumatic changes. Carl Harper leaves the committee and Dave Watson joins it. Dave Watson also takes over from Neil Morley as Publicity officer. There's no change to subscription rates and we had a productive discussion on financing events. All the details are in the meeting minutes, which you can download from our Documents Page.
Air Ambulance
Thanks to Neil Bowen, who organised a collection box on our stand at the Copdock Show, we raisd £40 for the East Anglian Air Ambulance.
West Midlands Section
First, we printed the wrong 'phone number in September's newsletter — and now our volunteer organiser has had to withdraw for personal reasons. However, he reckons he'll be able to try again later. In the meantime, anyone wanting to 'pre-register' an interest in West Midlands events is welcome to contact the secretary.
Committee
We had a committee meeting on 13 September; it lasted a whole 20 minutes. The minutes are available on the documents page.
DVLA Inspections
DVLA Local Offices would often inspect a vehicle before issuing an 'age-related' registration, but this procedure fell by the wayside when all the local offices were closed. We believe that DVLA's idea was that DVSA (formerly VOSA) would be able to do this, but no agreement was reached, so the job went out to tender. SGS UK Ltd was appointed on 14 April 2015 and inspections are taking place again. This is not a roadworthiness check, just a check that the vehicle is the one it's claimed to be—frame and engine numbers will be checked.
DVLA Changes V765 Policy
At the end of May, DVLA implemented unannounced a policy change on V765 applications. V765s using old tax discs or MoT certificates as evidence are all being rejected. To succeed now, a V765 application must be supported by an old logbook (VE60 or RF60) as evidence. While other pre-1983 documentation may be accepted, this must show a provable link (such as the frame number) to the vehicle. In nine cases out of ten this means that local authority archive records and original insurance certificates will not be accepted.
New Badges
We've restocked the club's badges and taken the opportunity to add a couple of new versions:
The blue and silver lapel badges are 38mm in diameter (a little larger than our maroon and gold ones) and have a 'butterfly' type fastening. The black & white embroidered patch is the same size as our others: 74mm diameter.
South Yorkshire Section
The Rotherham Roamers have had their first ride; read all about it on our events page.
South East Area
Another new section, this time in the South East corner of the country. The section has organises at least four events a year: three runs and a display at a classic motoring event. In addition there are regular monthly meetings. Find out more on our events page.
AGM
Our AGM was on Sunday 16 November; the minutes are available on the documents page.
Norfolk Section
The inaugural meeting of the new Norfolk Section got off to a good start with every hope for future evening meetings. For the latest news from Norfolk section, follow this link.
Instead of tax discs
With UK tax discs no longer required from October, what do you do with tax disc that empty tax disc holder? You could discard it (harder if it's on a Raleigh RM1) … or you could put one of these in it:
Download them from our Documents page and print as many as you need.
---
Membership
Club membership is open to all. There are no geographical restrictions on who can join. We have members all over the UK, and several overseas members too. The UK membership fee is only £4.00. You can find out more about joining the EACC here.
We also offer the option of joining on-line using PayPal.
Activities
We have a full programme of runs and meetings throughout the year. See the Events page for more details.
Newsletter
Our newsletter is called 'The MAC' and it's sent out to all members at the beginning of March, June, September and December. (If you're wondering where the name MAC comes from - have a look in our glossary.) We're keeping the newsletter simple (We recommend you to try Iceni CAM Magazine for all the things we don't cover in our newsletter).
If you're not a member and are wondering what it's like, back numbers can be downloaded from our documents page.
FBHVC
The EACC is a member of the Federation of British Historic Vehicle Clubs (FBHVC). The FBHVC monitors both domestic and European legislation, on the look-out for anything that could have an adverse effect on using our vehicles. While that's probably the mainstay of the FBHVC's activities, it also helps clubs in many other ways; for example, the Federation was a great help to us in formulating our Child Protection Policy.
V765 approved
The EACC is approved by DVLA for the validation of V765 forms. These are the forms you use in the UK to re-register an old vehicle while retaining its original registration mark. The EACC can also issue dating certificates for registering machines with an 'age-related' registration mark. For more information about what this all means—have a look at our Registrations page.
Insurance Scheme
All EACC members qualify fot discounts on insurance from both Footman James and Peter James. Read more on the Insurance page.
Lohmann Licence
As all Lohmann owners know, these compression-ignition cyclemotors won't run properly on petrol. The solution is to make a fuel mix that includes paraffin. The only problem with that is that it's illegal to put paraffin in the fuel of a road-going vehicle. We've solved that problem. We have obtained a 'General Licence to mix Hydrocarbon Fuels', which makes it legal for Lohmann riders to use this fuel mix on the UK's roads—as long as they are members of our club.
Clothing
The latest items we have produced are high-visibility tops. They're available in sizes L and XL and conform to BSEN 471 Class 2 and 89/686 EEC. the cost is just £7.45 including UK postage; call Dave Evans on … or save on the postage costs and buy one at a club run.
Badges and T-shirts
Club t-shirts are available in sizes M, L, XL, XXL & XXXL, all at £7 each. We also have badges:
The 'standard' version is a 28mm cold enamel badge in maroon and gold with a brooch pin fastening. We also have a 'Rider's Badge' in black, red and silver; this one is 25mm diameter and also has brooch pin fastening. These badges are £2.50 each plus postage. Newly introduced is a blue & silver lapel badge; this is a larger badge at 38mm diameter and has a 'butterfly' type fastening. These ones are £3 each plus postage. But that's not all …
… we have embroidered badges and machine badges too. The latest embroidered badges are black and white. Our 'standard' embroidered badges are in red and blue and available in three versions: with a black, silver or white background. They are 74mm (a shade under 3") in diameter. Embroidered badges are £2.50 each plus postage.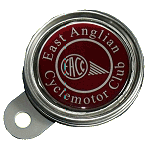 The EACC machine badges are a 65mm domed badge with an adhesive back. They are sized so that you can stick them on to various makes of tax disc holders, on your bike, car, glass window, etc. These are £2.50 each plus postage. And, if that's not enough …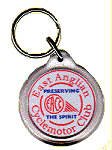 … you could also have an EACC key ring. These are only £1 (plus 50p for UK postage).
If you'd like any of these, please contact Guy Bolton at or call . These items are also on sale at our events, of course.
History
Although the club was revived in 2007, we can trace our roots back to 1981. We have adopted the original EACC logo that Andrew Roddham designed 28 years ago. To continue the 'retro' look, our membership application form is also based on an EACC membership renewal form from the 1980s.
There is more about the early days of the EACC in The Moped Archive.