What is the
EACC

?

The EACC is the UK's leading club for cyclemotor, autocycle and moped enthusiasts. The club is run for the mutual benefit of all its members, all our committee members and officers are unpaid volunteers and we do not seek to make a profit.

We also try to be as open and inclusive as we can: there are no exclusive 'members-only' areas on this website. Our policies, minutes and accounts are available for all to see. We welcome non-members at our events. We are happy to give help and advice to non-members.

We hope that this makes us a club that people join because they want to be part of it, not one that people feel they have to join in order to obtain a particular service … so far, it seems to be working …
Latest News
West Anglian Group
Are any of our West Anglian members interested in helping out in their area? Without more help it is likely that events like the Duloe Daffodil Dash will come to an end. Read more…
Tenth anniversary
On 11 November we began our 'tenth year of independence'. Kneel's Wheels 2017 will be the closest event to our tenth anniversary but we're hoping to have some other tenth anniversary events before that.
AGM
The AGM was on 13 November. The main changes made were:
Annual UK membership goes up to £6 a year to pay for an extra two newsletters each year.
The fee for dating certificates is increased to £10, making it the same as for a V765 application. Replacing an out-of-date vertificate will cost £5.
Martin Wikner will take over as Editor of The MAC, starting with the February edition
Sharon Wikner will take over as Treasurer … but not straight away as all the business of changing the account over will have to be done.
The minutes of the meeting are on our Documents Page.
Where we are
Here's a snapshop of where all our members are in the UK.
Distiguished Gentleman's Ride
Groups of EACC rides took part in this ride on 25 September, including Graham (www.gentlemansride.com/rider/cb1962) and Barry (www.gentlemansride.com/rider/cooperman1) in the South East and a Lancashire Slow Riders team.
Committee
We had a committee meeting at the Coprolite Run. The minutes are available on our documents page.
2017
Is it too early to be thinking about next year? Not for some of our sections, who are already booking their slots in our events calendar.
Periwinkle
The Periwinkle Run on Sunday 14th August was probably the best event our Hertfordshire section has organised so far.
The section's next event will be the Steeple Morden Run on September 15, and next year's Periwinkle Run will be on August 13.
David Watson
Committee member and Norfolk Section co-ordinator, David Watson, has a new e-mail address and 'phone number. See the Norfolk Section notes or the updated Information Sheet.
Calling all Lancastrians
Our newest section is in your area
---
Membership
Club membership is open to all. There are no geographical restrictions on who can join. We have members all over the UK, and several overseas members too. The UK membership fee is only £6.00. You can find out more about joining the EACC here.
We also offer the option of joining on-line using PayPal.
Activities
We have a full programme of runs and meetings throughout the year. See the Events page for more details.
Newsletter
Our newsletter is called 'The MAC' and it's sent out to all members at the beginning of February, April, June, August, October and December. (If you're wondering where the name MAC comes from - have a look in our glossary.) We're keeping the newsletter simple (We recommend you to try Iceni CAM Magazine for all the things we don't cover in our newsletter).
If you're not a member and are wondering what it's like, back numbers can be downloaded from our documents page.
FBHVC
The EACC is a member of the Federation of British Historic Vehicle Clubs (FBHVC). The FBHVC monitors both domestic and European legislation, on the look-out for anything that could have an adverse effect on using our vehicles. While that's probably the mainstay of the FBHVC's activities, it also helps clubs in many other ways; for example, the Federation was a great help to us in formulating our Child Protection Policy.
V765 approved
The EACC is approved by DVLA for the validation of V765 forms. These are the forms you use in the UK to re-register an old vehicle while retaining its original registration mark. The EACC can also issue dating certificates for registering machines with an 'age-related' registration mark. For more information about what this all means—have a look at our Registrations page.
Insurance Scheme
All EACC members qualify fot discounts on insurance from both Footman James and Peter James. Read more on the Insurance page.
Lohmann Licence
As all Lohmann owners know, these compression-ignition cyclemotors won't run properly on petrol. The solution is to make a fuel mix that includes paraffin. The only problem with that is that it's illegal to put paraffin in the fuel of a road-going vehicle. We've solved that problem. We have obtained a 'General Licence to mix Hydrocarbon Fuels', which makes it legal for Lohmann riders to use this fuel mix on the UK's roads—as long as they are members of our club.
Clothing
The latest items we have produced are high-visibility tops. They're available in sizes L and XL and conform to BSEN 471 Class 2 and 89/686 EEC. the cost is just £7.45 including UK postage; call Dave Evans on … or save on the postage costs and buy one at a club run.
Badges and T-shirts
Club t-shirts are available in sizes M, L, XL, XXL & XXXL, all at £7 each. We also have badges:
The 'standard' version is a 28mm cold enamel badge in maroon and gold with a brooch pin fastening. We also have a 'Rider's Badge' in black, red and silver; this one is 25mm diameter and also has brooch pin fastening. These badges are £2.50 each plus postage. Newly introduced is a blue & silver lapel badge; this is a larger badge at 38mm diameter and has a 'butterfly' type fastening. These ones are £3 each plus postage. But that's not all …
… we have embroidered badges and machine badges too. The latest embroidered badges are black and white. Our 'standard' embroidered badges are in red and blue and available in three versions: with a black, silver or white background. They are 74mm (a shade under 3") in diameter. Embroidered badges are £2.50 each plus postage.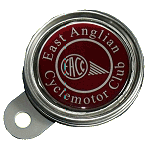 The EACC machine badges are a 65mm domed badge with an adhesive back. They are sized so that you can stick them on to various makes of tax disc holders, on your bike, car, glass window, etc. These are £2.50 each plus postage. And, if that's not enough …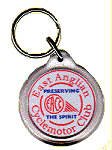 … you could also have an EACC key ring. These are only £1 (plus 50p for UK postage).
If you'd like any of these, please contact Guy Bolton at or call . These items are also on sale at our events, of course.
History
Although the club was revived in 2007, we can trace our roots back to 1981. We have adopted the original EACC logo that Andrew Roddham designed 28 years ago. To continue the 'retro' look, our membership application form is also based on an EACC membership renewal form from the 1980s.
There is more about the early days of the EACC in The Moped Archive.